MBA Colleges Near me in Delhi Area wise for Admission – 2024 How many MBA Colleges and Institutes Delhi city and national capital territory, north-central India. The city of colleges offering MBA in Delhi actually consists of components:
Delhi being the national capital of India is a Multi cultures and Multi linguistic City of India. which has Important Administrative Blocks of government making it a center of Political activities and Residential and commercial place for People of India. Consequently it also shelters as a large number of Multinational corporate which Donates a huge amount to the Indian economy.
Since Delhi is the most preferred Place for education. As a result attracts students from almost all northern, central , eastern States. Also from other parts of the country as well as from a number of other countries producing great talents.
The Regular Industrial Interaction like Industrial Visits and Guest lectures finally enhanced the efficiency and Requirement of B schools in Delhi.
Furthermore The quality pragmatic education imparted among the students has resulted in better & efficient work force. Hence great minds working forth towards making a rising future of an individual as well as the profitable corporate Houses in conclusion.
Top MBA Colleges in Delhi – India Rankings 2023: Management
Many time search Which institute is best for MBA in Delhi?
| NIRF | Rankings 2023 | Name of Top Management Institute & University | Founded |
| --- | --- | --- | --- |
| 1 | 5 | Indian Institute of Technology Delhi | 1950 |
| 2 | 25 | Jamia Millia Islamia, New Delhi | 1962 |
| 3 | 27 | Indian Institute of Foreign Trade | 1963 |
| 4 | 34 | International Management Institute | 1981 |
| 5 | 63 | Fore School of Management | 1981 |
| 6 | 66 | Guru Gobind Singh Indraprastha University | 1998 |
| 7 | 88 | Jagan Institute of Management Studies | 1993 |
| 8 | 96 | Jamia Hamdard | 1989 |
| 9 | 99 | New Delhi Institute Of Management | 1992 |
How can I get admission in Top MBA in Delhi?
Candidates must complete a bachelor's degree after 12 years. Aspirants appearing for the final year examination of bachelor's degree may also apply.
Must complete a Bachelor's degree at least 50%
Appearing for any MBA entrance exam
formal schooling with at minimum 50% aggregate at graduation level (45% aggregate for SC/ ST/ OBC-NCL/ EWS/ PwD/ CW) or equivalent CGPA to apply for MBA.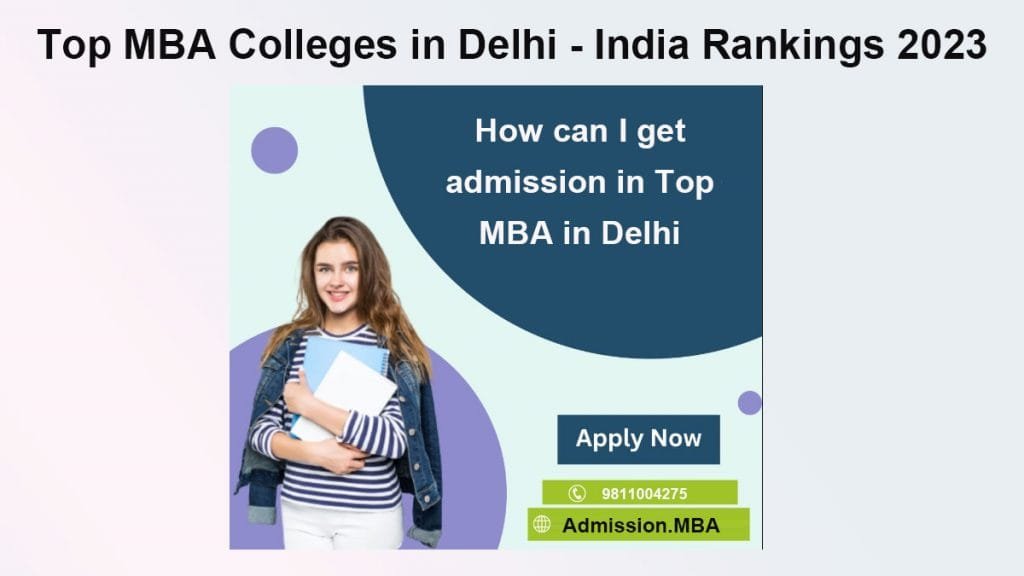 Entrance Exams for MBA Program in Delhi Colleges Wise
The list of all MBA entrance exams in Delhi are CAT, MAT, XAT, CMAT, IIFT. While the IPU CET, CUET PG etc., are accepted by only the related institutions and limited B-schools, GMAT is accepted by a larger range of B-schools across Delhi and abroad. Many time search about MBA admission without entrance Exam.
MBA Colleges in Delhi without Entrance Exam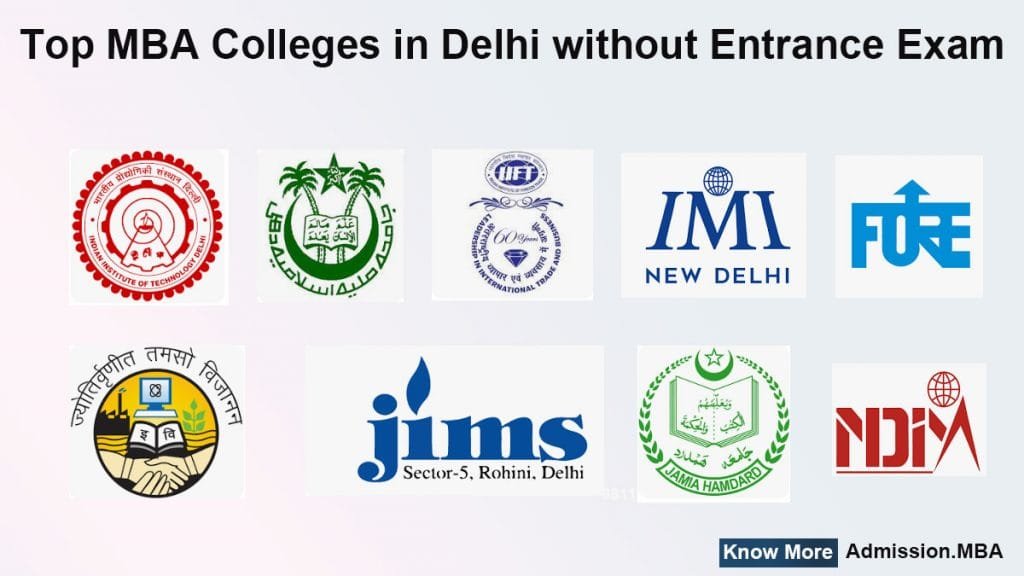 Many top private MBA programs provide direct admission without considering entrance exam scores. However, through management quota, it is feasible to gain admission to IIMs or prominent MBA colleges like as Fore, IIFT, or GGIPU without taking any MBA entrance examinations such as CAT, XAT, MAT, and so on. Check here List of MBA Colleges in Delhi
Best Private Colleges in Delhi
Among the top MBA colleges in Delhi are IIFT, FMS, MDI, IITD, IMT, and IMI, to name a few. Other prominent MBA colleges in Delhi NCR are Jaipuria (Noida campus), IILM, and Bennett university.
Over the time period of last few years MBA Admission has seen a tremendous growth. Its Because of establishment of many top business schools in India. Since the need of the corporate managers is high and the need is well almost understood and defined by the rise in top business schools in Delhi.
Therefore the quality MBA education imparted among the Aspirants has resulted in better and efficient work force. Hence making a rising Economy resulted in
Higher Job packages
Profile of the MBA graduates.
The Practical Practices and the quality Modern Teaching Pedagogy Done by top MBA colleges in Delhi has probably Raised the Need of MBA Admission Delhi in addition. The Need is Much Higher as comparison of MBA Admission in other states of India in conclusion.
Delhi College & University Approval
Hence , MBA Admission Delhi is for students willing to make career in the field of management. It Almost requires Graduates from any Discipline. Recognized By any Indian University being UGC approved or AICTE. Final year Students perusing Graduation can also opt for MBA admission in Colleges. Aspirants may write the MBA Entrance Exams too. The Easy Direct Admission in MBA in Top B schools starts from filling of application form followed finally by personal Interview.