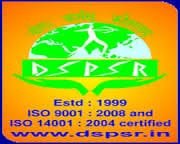 Address-: 9, Institutional Area,Sector 25 Rohini Phase III,
Rohini Extension, New Delhi, DL 110085
Contact Number – 011-26344275, 011-64614275,
website-: www.dspsr.in
Delhi School of Professional Studies and Research
The Delhi School of Professional Studies and Research (DSPSR) is promoted by the Society for Human Transformation and Research and was established in 1999. It is the brain child of a group of luminaries from the academic field who then envisioned the surge in the demand for competent managerial professionals in the country, as an outcome of the economic policies adopted by the government in the early 1990s. Since then the endeavour is on to provide quality management education at affordable costs to reach greater heights.
In the present day globally competitive, technology driven environment, only the fittest will survive, has been well evidence by the recent economic turmoil. Our mission is therefore to develop transformational leaders with a global vision and holistic perspectives, empowered with quality education that kindles creativity, promotes innovation, instils ethical practices and thus prepares them face complexity, diversity and change which would confront them in the future.
To provide platform and create environment for developing transformational leaders of global vision and holistic perspective. We aspire to be our corporate associates in the country by the end of the decade.
Delhi School of Professional Studies and Research Advantage
Upto 50% teaching by IIM / other top B-school alumni.
Course Curriculum benchmarked with top B-schools including Stanford, Harvard, IIMs.
1000 hours of academic curriculum benchmarked with IIM plus 500 hours of Employability training which makes students ready for industry.
Proven record of 80% students satisfaction.
One live project in industry per semester to develop praticle knowledge.
Holistic development of the students through regular management workshops, live corporate exposures and learning with fun initiatives etc.
Guaranteed Placement on legal stamp paper from Rs. 20-50K/month Salary.
Scholarships for meritorious students. (CAT ≥85%, MAT≥90%)
International exposure in through various global tie-ups.
Delhi School of Professional Studies and Research Highlights
Delhi School of Professional Studies and Research-DSPSR has the distinction of being accredited by American University Accreditation Council (AUAC), USA and Accreditation Service for International Colleges (ASIC), UK as the First Premier Institution in India.
Global Exposure at Delhi School of Professional Studies and Research-DSPSR
Delhi School of Professional Studies and Research Foreign Tie ups
DSPSR has signed various MOUs with different universities and colleges round the globe. It has students and teachers exchange programme running with:
Texas A&M University – Commerce, Commerce, Texas, USA
Faculty of Economics & Management, Slovak University of Agriculture in Nitra, Slovak Republic
ICE Academy, London, UK
Harrow International Business School (HIBS), London, UK
Australian Institute of Business Administration, Adelaide, South Australia, Australia
Faculty of Engineering, University of Szeged, Hungary
University of Debrecen, Debrecen, Hungary
Agricultural Economics Research Institute, Budapest, Hungary
Faculty of Water and Environmental Management, Szent Istvan University, Godollo, Hungary
Faculty of Economics and Social /science, Szent Istvan University, Godollo, Hungary
The Global Open University, Holland
DSPSR Delhi
Name of college
Delhi School of Professional Studies and Research
Location
Rohini ,New Delhi
Date of Establishment
1998
Affiliation
AICTE,Ministry of Human Resource Development,
Government of India,
Courses Offered
PGDM ( Post graduate Diploma in Management )
MBA Entrance Exam
CAT/MAT/XAT/ATMA/CMAT
Fees
Rs.N/A
Eligibility
Bachelor's Degree or equivalent (10 + 2 + 3) in any discipline with minimum of 50% aggregate marks from a recognised Indian or foreign university. Candidates in their final year of Bachelor's degree are also eligible to apply (provided that aggregate up to the final year must be 50% or above).subject to meeting the eligibility criteria and submitting its proof of the same
Admission Procedure
Previous academic performance+Entrance test score+
Group discussion+
Personal interview.
Scholarships
Yes,Available
Necesarry Documents
A Photocopy of CAT/CMAT/ GMAT/MAT/XAT score card
A Photocopy of Graduation Examination marksheet (1st & 2nd year marksheets for 3 year degree holders and 1st, 2nd & 3rd year marsheets for 4 year degree holders, in case applying for Final Examinations).
A Photocopy of Class 12th Certificate/ 10th Certificate.
Colored photographs (4 passport size).
Seats  (Intake)
60 (Intake)
GD/PI Cities
New Delhi, Bhubaneswar, Kolkata, Jaipur, Guwahati, Racnchi, Jamshedpur, Patna, Kanpur, Allahabad, Lucknow, Chandigarh